Which Type of Roofing is Right for You?
Most homes in the Kansas City metro area are roofed with asphalt shingles. While asphalt is a good roofing system, there are many other state-of-the-art roofing products to choose from. Many of these products offer greater curb appeal with increased home value while providing stronger protection and energy savings.  How to install or fix, how often to replace, and how much a particular roof system or roof replacement costs is based on a number of factors including, slope, materials, underlayment's, age, complexity, warranties, the number of existing roofing layers, etc. We understand that choosing the best roof for your circumstances can be challenging. Let one of our professional roofing specialists help. 
Contact Rons Roofing Inc for a Free Consultation & Estimate.
Asphalt Shingle Roofing
Asphalt roof shingles are the most popular roofing material used on homes throughout the Kansas City metro area, and with good reason. Asphalt shingles are designed to protect your home through decades of weather extremes with minimal maintenance, and are available in many colors & styles. 
While getting a new roof is by no means an inexpensive project, asphalt shingles are among the most affordable options available. 
Ron's Roofing Inc highly recommends America's #1 selling roof shingle –

We are proud to be a GAF Certified Roofing Contractor 
We have been continually trained by GAF Materials Corporation in the latest roofing techniques, installation, product knowledge, and awareness.
If you need roof repair or a new roof, Ron's Roofing Inc is the roofing contractor of choice due to our experience and our use of weather rated products with Lifetime Warranties.
Below we have detailed all the product and warranty information needed to research the GAF Roof system and its unparalleled reliability. There is a reason they are the #1 selling shingle in North America.
Timberline HDZ® Shingles     
The look people love, now with LayerLock
™
 Technology and the StainGuard Plus
™
 Algae Protection Limited Warranty
Make a bold color statement with your new roof. Choose from the many options of Timberline HDZ® Shingles colors available for our area.
Contact us today to schedule your free consultation and see first hand the superior service you can expect now and for years to come.
GAF Limited Warranty Options / GAF Roofing
We Offer Several Other Types of Name Brand Shingle Roofing Systems:
3-TAB ROOFING SHINGLES
GAF Royal Sovereign

CertainTeed XT 25

Owens Corning Supreme AR Shingles

 
ARCHITECTURAL 
GAF Timberline HDZ

MOST POPULAR

CertainTeed Landmark Designer Series

Malarkey Highlander

Malarkey Vista

Owens Corning Duration Series

 
SPECIALTY SHINGLES
GAF Lifetime Designer Series

CertainTeed Matterhorn (Metal)

CertainTeed Presidential Shake

CertainTeed Carriage House

CertainTeed Symphony

CertainTeed Grand Manor

CertainTeed IR (Impact Resistant)

Malarkey Designer Series

Owens Corning Berkshire Collection

Owens Corning Woodcrest Collection
Wood Shake/ Cedar Shake Roofs 
Real wood shake shingles have been used on homes for a very long time and have a high-end and classic look. They generally last much longer than asphalt shingles. However, wood shakes do not hold up as well as some modern roofing materials, can be destroyed by hailstones, and pose a fire hazard. Many insurance companies will not insure buildings with real wood shake roofing. Thus, real wood shakes have declined in popularity over the past several decades. However, homeowners still can obtain this same timeless look through a variety of state-of-the-art stone coated steel, stamped metal, composite, and concrete products. Nevertheless, we aim to please, and we are happy to install real wood shakes according to a customer's need. Our roofing experts are happy to help you find the right product with the right look for your home.
Metal Roofing
Various kinds of metal have been used as roofing materials for centuries. It took the invention of "standing seam" metal panels in the 1960s for metal roofs to become more mainstream. As homeowners are looking for more durable roofing solutions and greener options, metal roofs are becoming increasingly more popular.
One of the biggest reasons people dismiss metal roofing as an option is the cost. Metal roofing is more of an upfront investment, but with the extended warranty (40 to 50 years depending on the manufacturer), higher resistance to the extreme weather in our area and overall lighter weight, it is considered a longer lasting, permanent solution. When you consider that every 10 years, the cost of asphalt shingles will double because of crude oil costs, you will save money long-term by investing in a metal roof.
Aside from cost, metal, by its generalized nature, can concern consumers about using it as a roofing material. Metal gets really hot, rusts and conducts lightning, which doesn't sound like the best thing to install on your home. Here is the truth about metal roofing:
Asphalt shingles absorb heat from the sun and pump it into your building for at least 8 hours after the source is removed. A metal roof is installed with a high temperature ice and water shield, which helps prevent melting, heat transfer and deck damage. Once the heat source is removed from a metal panel, the heat immediately leaves your roof and your building.
Metal is a lightning conductor, but it doesn't attract lightning. If struck by lightning, a metal roof will disperse the energy safely throughout the structure. It also has a Class A Fire rating, meaning it won't burn or melt, which is critical when dealing with lightning.
OUR ROOFING EXPERTS WILL BE ABLE TO RECOMMEND THE RIGHT PRODUCT FOR YOUR HOME.
We offer the several metal roofing options:
STANDING SEAM 
This roofing solution is custom cut to fit your home. It features a full, seamless, interlocking panel system with no exposed fasteners. This is perfect for low or steep pitched roofs.
MASTERRIB® / CORRUGATED METAL PANELS
This system features a full, seamless panel system that is screwed together with exposed fasteners. This is also custom cut to fit your home and is perfect for low or steep pitched roofs.
METAL SHINGLES 
Metal shingle panels look like an asphalt architectural shingle or a wood shake roof. We install our products with hidden fasteners that look sleeker and are never exposed to the elements. Other metal shingles that use exposed fasteners have rubber grommets that can crack and leak over time.
Weighing in at around 150 lbs. per square (depending on the manufacturer), metal shingles weigh less than standard asphalt shingles, which can weigh up to 250-300 lbs. per square! The lighter material is easier on your home structure.
Metal shingles also qualify for an insurance discount because of their Class 4 Hail Resistance!
If you are considering a metal roof in Kansas City, our professional roofing specialists have the quality products, experience and knowledge to install or repair a roofing system for your home or specific project.
Flat/Low Slope Roofs
FOR FLAT & LOW SLOPE ROOFS ON RESIDENTIAL HOMES, OPTIONS OTHER THAN SHINGLES PROVIDE BETTER SOLUTIONS TO KEEP THE WATER OUT. THIS IS OFTEN SEEN AT PORCHES, REAR ADDITIONS, TROUGHS, OR EVEN COMPLETE LOW-PITCHED ROOFS
.
Ron's Roofing Inc has experienced and certified specialist crews for all of types of flat & low slope roof installations. Flat roofing is a common, time-tested and practical roofing solution for many homes, businesses, roof transitions, and observation decks, etc.
Traditional flat roofing materials typically have a shorter life expectancy than roofing materials used on pitched roof slopes. Thus, in many situations, it might be beneficial to use more expensive and state-of-the-art flat roofing materials. The experts at Ron's Roofing Inc will help you choose the best solution for your particular needs.
Modified Membrane And Bitumen Rubber Roofing (EPDM):
Modified bitumen roofing is an asphalt-based solution designed for buildings with low-slope or "flat" roof structures. The "rolled" roofing application allows for fewer seams and is a better surface to handle slow water shedding compared to other asphalt products like shingles. Be wary of other types of rolled asphalt roofing, as many are cheaper but not nearly as durable as modified bitumen.
Ron's Roofing Inc uses and recommends RUBEROID® Torch Smooth Membrane. Its core is a strong, resilient non-woven polyester mat that is coated with weather- resistant, APP polymer-modified asphalt. The membrane is available with a smooth surface. RUBEROID® TORCH SMOOTH Membrane is backed by GAF, a company with over 130 years in the roofing business.
PVC & TPO (Thermoplastic Polyolefin)
These materials are most commonly PVC (Polyvinyl Chloride) vinyl membranes or TPO (Thermoplastic Olefin) membranes. The material is applied via hot air heat welding process or applied with solvent adhesives which create a chemical bond between materials, or a combination of the two methods. These are the most expensive flat roofing systems and are engineered to last for many years. PVC and TPO roofing materials are easily repaired by heating or chemically bonding a repair patch.
Slate Roofs 
Expert Slate Roofing Installation & Repair
A slate roof promises strength, beauty, and resilience. A slate roof built by Ron's Roofing Inc promises even more.
We're proud to be the area's premier slate roofing specialist. Combining time-tested craftsmanship with innovative service solutions, we build each slate roof to last generations. Each is a testament to our commitment, dedication, and passion for quality craftsmanship. Outstanding aesthetics, unparalleled durability: Our slate roofs are the best of both.
Slate roofing has been used for a few thousand years, during which not much has changed except for them now being more durable and well designed. However, beauty and durability have always been the reasons why homeowners would choose slate over any other material. The most remarkable feature of slate roofing is that slate comes in many different natural colors from across the world. The natural color may gradually change each year as it is exposed to the elements, but that's what adds to its what's considered "old-world charm."
Over the years, we've installed slate roofing in Houston across hundreds of homes and counting. Interestingly, it is a very popular material that people can't get enough of, but like all other roofing types, it needs to be installed correctly, and that's where we come in! We offer professional slate roofing services for all kinds of homes and businesses. Ron's Roofing inc can also help by recommending the best type of slate roofing and carry out mandatory repairs on a slate roof.
Barrel Tile & Medium Profile Tile Roofs
Tile Roofing
Tile roofing, sometimes known as Barrel Tile, Mediterranean Tile, Spanish Tile, Italian Tile, Pantile, Pacific Tile and Double Roman, adds a timeless natural earth tone look to may roofs. Fired clay is the original material for this roofing material and has been used in roofing for centuries. Today this specialized look can be obtained through a variety of modern materials including polymer, concrete, stone coated steel and stamped steel. Most tile roofs in the US are manufactured out of concrete but Ron's Roofing Inc is also a leader in clay tile roof installations. The following is a comparison of different tile roofing materials installed by Ron's Roofing Inc. Our trained staff would be happy to discuss options with you.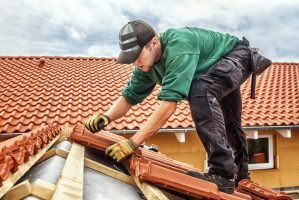 Clay / Terracotta Tile:
Clay, sometimes called terracotta, roofs are on some of the most beautiful buildings in the world. Clay has an excellent 50+ year lifespan and is highly frost and fire-resistant. However, clay is generally regarded as being brittle and foot traffic should be held to a minimum, if at all. Clay can also be problematic in our area where large hailstones are common. Clay is also one of the heaviest and most expensive products on the market and may require additional structural framing.
Composite Tile:
Composite polymer tile is perfect clay tile alternative. This lightweight synthetic material looks nearly identical to real Spanish tile and it has the most color options available. It has a 50+ year life span, is environmentally friendly and is very wind and hail resistant.
Stone Coated Steel Tile:
Stone coated steel tiles are less known in the market but offer terrific cost/benefit advantages over other materials. This metal core product has the look and other benefits of clay and concrete but without the added weight. Unified Steel (Boral/Gerard) roofing tiles are available in Barrel Vault (Spanish or Italian style) and Pacific Tile (Double Roman style) profiles. Stone coated metal has an excellent 50+ year lifespan and outstanding energy efficiencies. It is very fire, wind and ice dam resistant. Unlike clay and concrete, stone coated steel offers excellent hail resistance and provides added shear-strength against earthquakes. Parts of stone coated steel roofs can be walked upon with care. Stone coated steel is also less expensive than clay or concrete.
Concrete Tile:
Concrete is the most popular and commonly used roofing tile that is used by those wanting the old-world look of clay tile but at a lighter weight and less expensive cost. Concrete has a great 50+ year lifespan, is very energy efficient and has excellent fire and freeze resistance.  While generally stronger than clay, it can also be subject to breakage by large hailstones, and great caution should be used if it is walked upon.
If you are considering a tile roof in Kansas City, Ron's Roofing Inc are  specialists and have the quality products, experience and knowledge to install or repair a tile roofing system for your home or specific project.